Inside Athena: Malia Hill Promoted to Nurse Leadership Role Overseeing Mass., R.I.
HAVERHILL, M.A. — Malia Hill has been working in long-term care for nearly 12 years. This setting has always been what she enjoyed the most, despite having worked in other healthcare settings like hospitals, but it is within these skilled nursing facilities where she has always felt a sense of fulfillment and purpose.
"I love the subacute population," she said. "I like that you can develop relationships more in this setting and truly get to know your residents."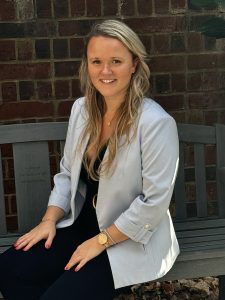 She expanded to say that skilled nursing facilities provide a safe environment that so many people call home. In her nursing leadership roles, she has been dedicated to creating an environment that mirrors a warm and homelike experience for the residents, striving to make their stay as comforting and nurturing as possible.
Since May of 2022, Hill has been working at The Oxford Rehabilitation & Health Care Center in Haverhill, Massachusetts as a Quality Improvement Nurse and concurrently as the MDS Director. During her time at the center, she has provided necessary education and training to the clinical staff to remove the center from a special focus list with the Commonwealth of Massachusetts.
In November, Hill stepped into a new leadership role as the Director of Clinical Services and Quality Nursing Practices with Athena Health Care Systems overseeing clinical operations across Massachusetts and Rhode Island.
Hill brings a wealth of knowledge and experience as an analytical nursing professional having served as a Director of Clinical Operations with Next Step Healthcare prior to joining The Oxford. She also has prior experience working as a Clinical Specialists and in Director of Nursing roles since 2012.
With experience in implementing quality improvement measures, Hill emphasizes the importance of teamwork and following the processes to achieve the results you want. In her new role, she plans to visit each center in Massachusetts and Rhode Island and spend time with the nurse managers at each center.
"Your staff mimic your behavior, be who you want your staff to be," she said. "It's important to foster an environment where we can work together to achieve goals."
The Oxford Administrator Mark Nugent has worked alongside Hill for the past year.
He said, "Malia's unique and innovative approach to leadership allows her to teach and problem solve, which inspires the entire team to excel. She can pick apart the strengths and weaknesses every team member brings to turn vision into reality."
Hill has a Bachelor of Science in Nursing from Drexel University and is currently completing her master's degree in nursing in healthcare informatics from the University of Colorado.
Follow Athena Health Care Systems on Twitter and Facebook & The Oxford Rehabilitation & Health Care Center on Facebook. Interested in a career with Athena? Click here!
MORE FROM ATHENA